About
Plymouth
Plymouth, WI is a full service community that bridges the two major geographical landscapes of the area, a flat coastal plain and the hilly Kettle Moraine. Plymouth has an intact, historical downtown and is home to the County's fair grounds that include equestrian and dirt-track racing. With strong agricultural roots, the area school district has strong programming in food science, engineering and advanced manufacturing to give local residents a one-of-a-kind education.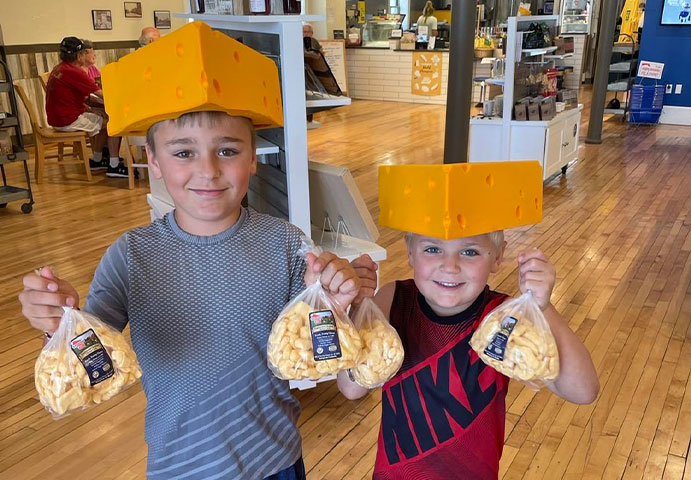 The Cheese Capital
of the World
Plymouth is the second largest community in Sheboygan County and is the Cheese Capital of the World and ground zero for the Wisconsin Cheese Industry. It is estimated that 10-15% of the nation's cheese is processed and sold from Plymouth-based facilities and makes the community the "Cheese Capital of the World"™. Plymouth has also been recognized as one of the best places to start a business due to its strong local economy.
Check out all that
Plymouth has to offer!
Why others
LOVE PLYMOUTH!
Plymouth has a friendly heart and that comes from the community, the historic feel, the way everyone comes together in times of need, the support for the schools and the LOVE for Plymouth Panthers, and everyone that lives in this town makes it Plymouth. I have lived in many different towns and Plymouth by far has my heart

I love Plymouth because it has such a quaint feel to the downtown and there are so many different stores in such a small city, not just downtown but throughout the city! Also there is something fun and exciting to do for all ages, love it!

All you need is right here in Plymouth to live, work and play. We are close enough and far enough for the other occasional desires.
Useful Links to learn more about
The Cheese Capital of the World
Plymouth has so much to offer. Here are several links to help you discover what makes Plymouth Wisconsin an ideal destination!