1954 Cheese Derby Day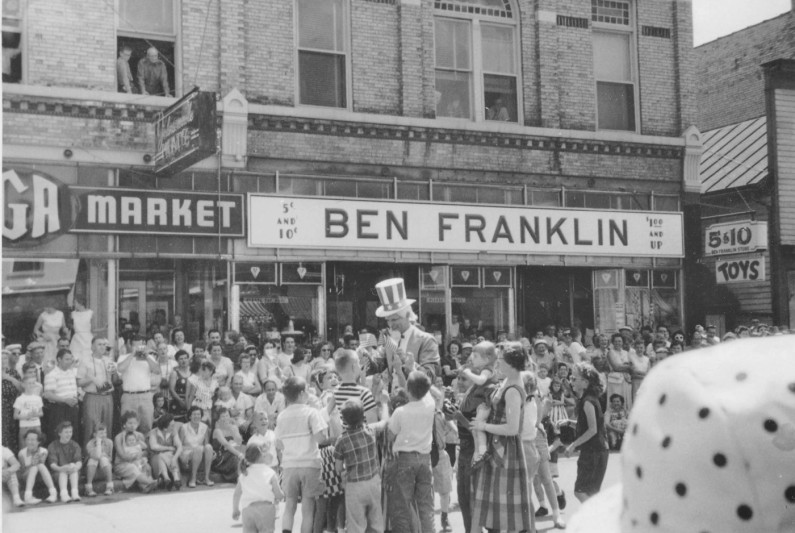 The stage was set on July 31, 1954, when Plymouth held its first ever Cheese Derby Day celebration. Jointly sponsored by the Sheboygan County Harness Racing Association, and the Plymouth Association of Commerce, the event was a cheese and dairy day promotion, with special cheese derby harness racing. John Leys was general chairman of the event.
Highlights included visits from Alice in Dairyland, Governor Walter Kohler, Director of Agriculture Don McDowell, and a huge parade through the downtown. Cheese Derby harness races were held at the fairgrounds bringing more than 100 of the state's best horses including horses from Illinois. An evening dance was held at Turner Hall featuring Cousin Fuzzy & His Cousins.
The Happy Time Trio made rounds entertaining shoppers, while a talent contest was held at the corner of Mill and Stafford Streets. Diane Remy won the contest for her acrobat act. Second place went to a drum and trombone team, Terry Reiss and Irvin Orchekowski.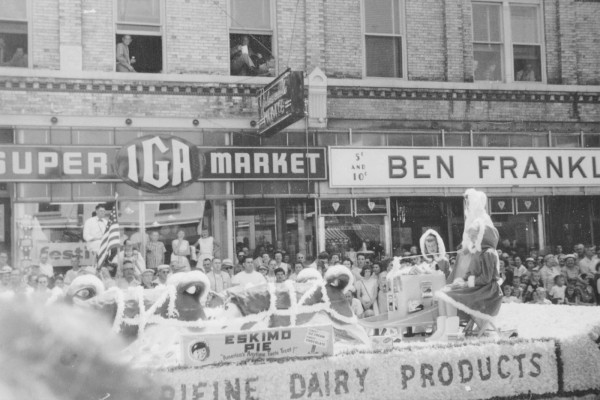 An American Legion color guard composed of Lyle Collins, Roy Anton, Don Holzschuh, and Chester Harrison led the parade. Parade attendees were entertained by the Kiel City Band, Fond du lac American Legion Band, Sheboygan American Legion Drum and Bugle Corps, and the Plymouth City Band.
Downtown businesses promoted 'free everything that starts in a cow!' Cheese, crackers, milk, and ice cream. Practically every store in town offered a special free offering or contest to add fun and excitement to the event.
Perhaps you remember some of these businesses. Wooden Cheese Mice, imported from Japan and Sweden, were a free offering with a 1-year subscription to the Plymouth Review. The Plymouth Cheese Counter offered free cheese and crackers all day, as did Capelle's Home Appliances, Hotel Curtiss, Cozy Bar, Frank's Bar, Hotel Mitchell, Kison Food Market, Gamble Store, A&P Food Store, J.C. Penny Store, Turner Hall, Lyceum Hall, Chandler Electric, Hecker's Tavern, The Print Shop, and W.H. Suhrke. Chaplin's Light Shop offered cheese on rye, Mueller's Tavern free aged cheese, Sunnyside Grill, free vanilla ice cream cone with every meal, Arsenault's Royal Blue, free sampling of aged cheese before a purchase, Plymouth Beer Depot, guess the number of bottle caps in a gallon jar, W&W Bottling Co., Piffen cheese for largest family present, Davidson Office Supply offered 1 lb. butter with each $10 purchase, Bernard Sternberg, baby longhorn to its 25th customer, Meyer's Pontiac, 50 lbs. of cheese with any car over $100, Gilman's Restaurant, 5 cent coffee, 10 cents with cream. Muller's Bakery offered a cheesecake special, Lauer's Grocery, free cottage cheese to the first 300 customers, while Midwest Creamery and Lakeshire-Marty Co. offered cheese donations.
It was reported that 20,000 people came to Plymouths first ever Cheese Derby Day. It was so successful that the Cheese Center of World considered it as an annual attraction for many years.
Future events dazzled many, with parades so spectacular, including the Clydesdale horses, marching bands, drum and bugle competitions, elaborate floats, and young ladies competing for the honor of being Cheese Derby Day Queen. Cheese Derby Day truly was a memorable event for the Cheese Capital of the World.
2023 Cheese Capital Festival
Join us for the Cheese Capital Festival on Saturday, June 24, 2023! View more details here: https://plymouthwisconsin.com/events/cheese-derby-day-and-music-festival/