Cheers to our 7th Cheese Capital Wine Walk!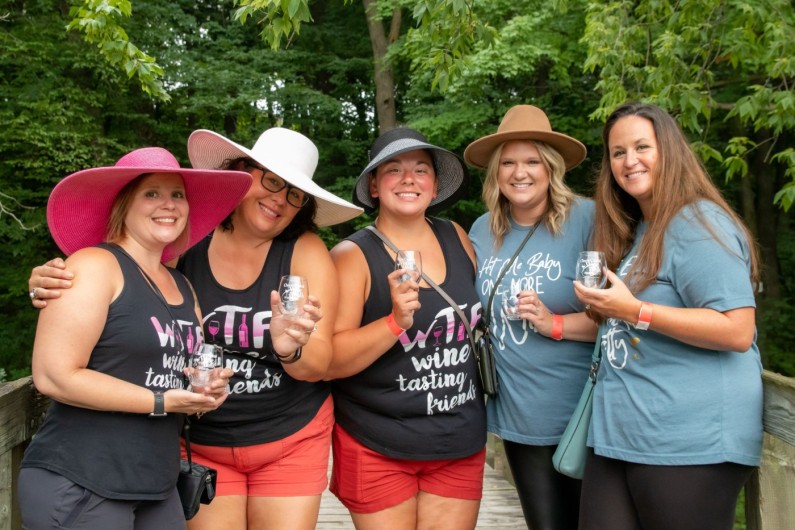 This August, wine will once again be flowing in various corners of downtown Plymouth during the 7th Annual Cheese Capital Wine Walk, hosted by the Plymouth Chamber of Commerce.
There will again be 16 stops at various downtown businesses who will be serving samples of Wisconsin wines and enjoy the wine with snacks, cheese or music.
The Cheese Capital Wine Walk sponsored by Masters Gallery Foods, Inc. is scheduled for August 18 from 6 to 9 p.m., will offer ticket holders the opportunity to sample a variety of wines as they walk from business to business where they can also pick up pre-packaged snacks and local cheese, learn about local wines, shop in the wine stop shops, and purchase wine related items.
Presented by the Plymouth Chamber of Commerce, the walk will have 16 participating downtown businesses, the Chamber said. And, attendees at their own pace, walk the 6 blocks of Mill Street stopping along the way at the participating businesses. Due to the locations of the stops and the spacing of the businesses, the Chamber and the participating businesses feel it's an easy night out enjoyed our downtown and supporting our businesses.
The idea to bring a wine walk to Plymouth came from discussions with the Chamber's events committee in coming up with ways to showcase our downtown and community. And, "in working with the Downtown group, D.A.M., there are so many great businesses that we want to show off and what better than to do something that's fun and can bring people into shops and businesses they may be unfamiliar with," said Hauser
For an admission fee, ticket holders will each receive a wine glass and be able to sample one ounce of a wine at each participating business. "The aim of the wine walk is to draw people into the community, get residents and visitors interested in shopping and dining at local businesses," said Mary Hauser, executive director of the Plymouth Chamber of Commerce.
"We'll only have 200 tickets available for the event, and we're pretty sure it will sell out, as it has done in the past." Hauser said.
Wines from local wineries as well as some outside of Sheboygan county will be served, but all will be from Wisconsin wineries. We will also be featuring local cheeses as we are the "Cheese Capital of the World".
Tickets for the Cheese Capital Wine Walk will be on sale at the Chamber of Commerce office, online at www.plymouthwisconsin.com or by calling 920-893- 0079 to pay by credit card. We will also have a Designated Driver ticket which will allow them to sample all of the foods and goodies but no wine.