The 2023 Plymouth Visitor & Resident Guide is now available!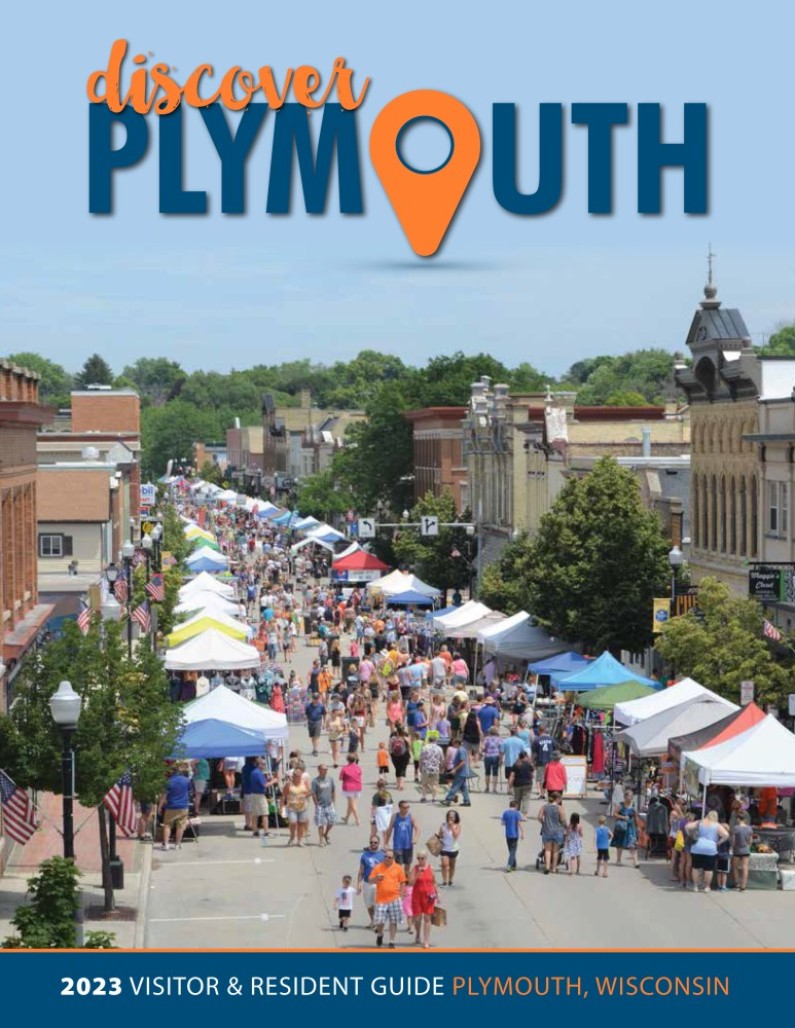 If you are planning a trip to the Cheese Capital of the World, you'll want to start your trip planning with the 2023 Plymouth Visitor & Resident guide! Inside you'll find many features that will make sure you don't miss out on anything during your stay in our historic city!
Wondering how to get the guide? You can view it on our website HERE. This is a useful option to download the guide to your computer or phone! If you are already in Plymouth, stop at our Visitor Center, located at 647 Walton Drive, Plymouth. The guide is also displayed at many local businesses too. We can mail you a copy of the guide…just send us an email at chamber@plymouthwisconsin.com. We also ship our guide to more than 60 different Chamber offices, Visitor Centers, CVB's and Welcome Centers across Wisconsin!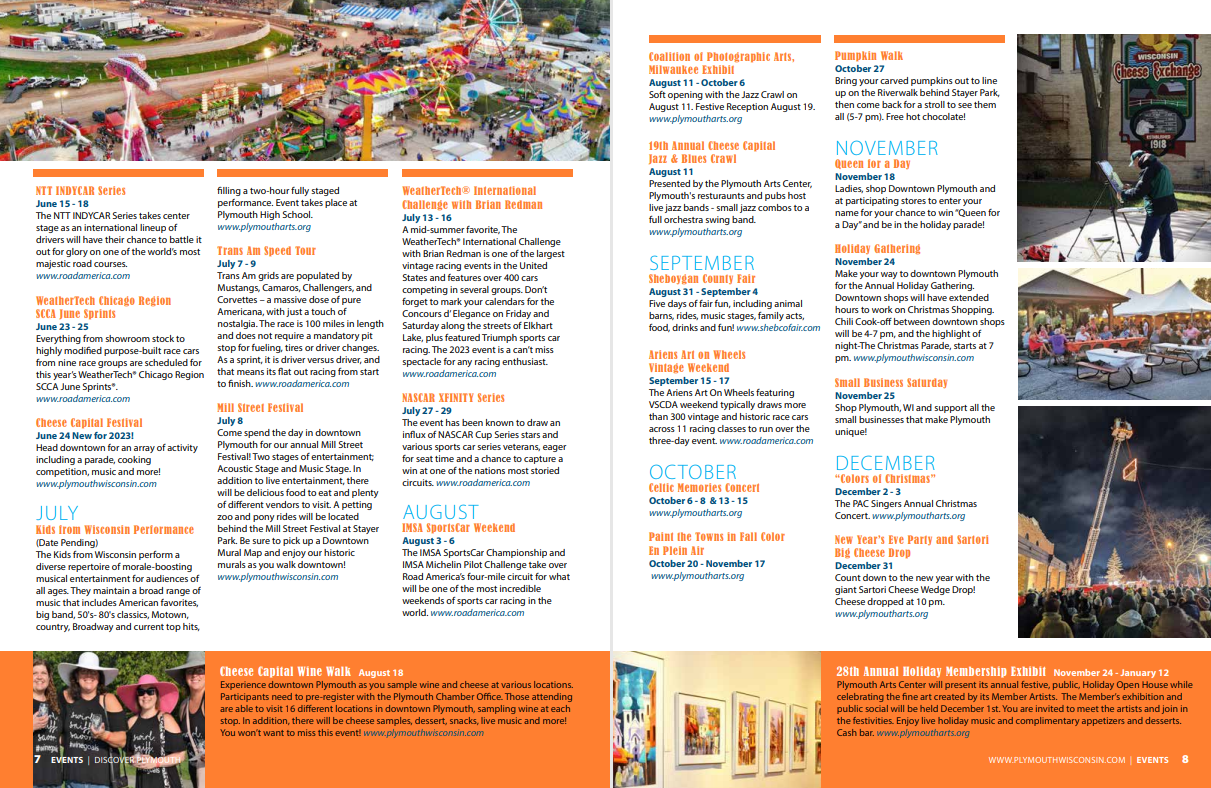 Here are some features you won't want to miss:
Lodging. Do you enjoy your overnight accommodation including a pool and continental breakfast? We've got two hotels in Plymouth with those amenities. Prefer staying in a historic hotel? Plymouth has the oldest operating hotel in Wisconsin! Need a quite break? We also have a peaceful Bed & Breakfast option, situated on 5 acres.
Dining. Is there anyone that goes on a vacation to a new city and doesn't try eating at all the local dining establishments? Plymouth has you covered with whatever you are craving! A German Restaurant in an old train depot, casual dining featuring pastas, wraps, and sandwiches, pizza options, two Mexican restaurants, coffee shops, and a place featuring entrees made from local cheese!
Murals. Plymouth boasts 30 different murals in Plymouth. Our guide has a map and address listing of all the murals, so you don't miss any! The murals of Plymouth are all showing something historically significant in Plymouth…so enjoy free public art and get a history lesson at the same time!
Event Calendar. Are you curious about some of the major events that happen in the Plymouth area? Check out the included calendar of events. It'll show a new one for this year…The Cheese Capital Festival on Saturday, June 24th! Check out our website for more information!
Shopping. Want to go home with something special that you picked up in Plymouth? Check out our shopping page for all the fun places you can stop at!
10 Must Sees! Overwhelmed by what to do first when you get to Plymouth? Check out our 10 Must Sees to get you started on your trip.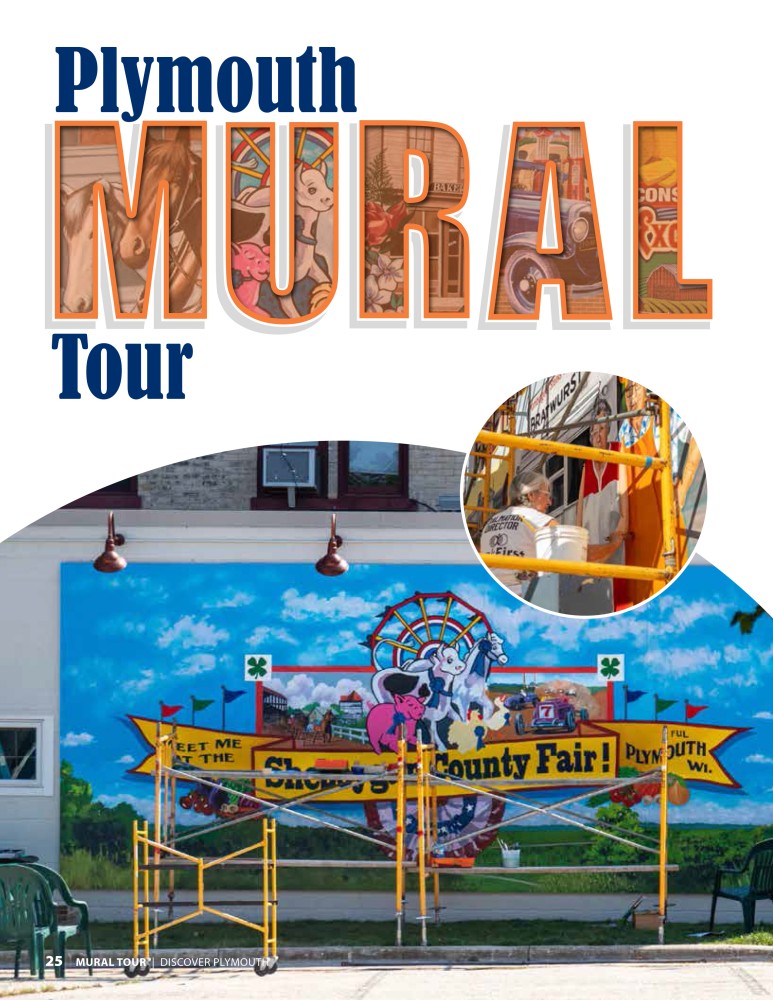 Local residents will find the 2023 guide to be a useful tool as well! Important numbers, healthcare, worship, schools, and public services all have feature sections.
Whether here for a visit or a long-time resident, when you are posting your Plymouth photos, use #PlymouthWisconsin.